500th Satisfied Customer
Within about three hours of setting paw in Pasco County, Aspen had a loving new home.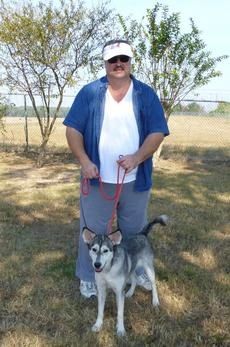 Aspen, a young Siberian husky, is the 500th pet to be found a permanent home by the Friends of Citrus County Animal Services (FOCCAS). She stands with Michael DeRose, FOCCAS president and rescue volunteer with animal services, last week before riding to her new home in Pasco County.
Not that every homeless Siberian husky should head south for a better life: Aspen's assignment came about as the result of the continuing work of the Friends of Citrus County Animal Services (FOCCAS). Through its members' constant networking, the county's abandoned pets get placed where they are wanted all over the country.
Aspen happens to be the group's 500th success story, from one rescue nonprofit working with another.
"When they took Aspen, this particular rescue had two or three families lined up," said Michael DeRose, FOCCAS president and rescue volunteer with animal services. "They were confident she would go home pretty quick."
DeRose drove Aspen part of the way to Pasco County, where he met the man from the other rescue group. He said goodbye to Aspen as he handed her over.
"He called me about 4 o'clock and said, 'She's on her way to her new home,'" DeRose said. "They already had these preapproved adopters and they'd already done all the home checks. The first family that came and saw her just absolutely fell in love with her."
That family already owned another young husky, which they brought along to see how the two dogs played together. It was a perfect match, as Aspen found a new best friend.
"Originally, Aspen came in as a stray (to county animal services)," DeRose said. "She got adopted locally here, but although the people seemed to be genuine, I thought she was going to be too much dog for them. Huskies are very active dogs, especially when they are young."
Aspen had a constant need to run around, sometimes escaping from her yard.
"They finally called me and said, 'Could you just come and get her?'" DeRose said.
Having worked before with the husky rescue group in Pasco County, DeRose was certain he could get them to find Aspen a good home. "Nothing bad was going to happen to her," DeRose said.
As the owner of huskies himself since he was 7 years old, DeRose knows the breed to have sweet personalities and an adventurous spirit that makes them bolt out of an open door or gate when they see the chance. In his work with FOCCAS, DeRose specializes in huskies and other big breeds.
"You may think you have an escape-proof yard, but huskies are very creative and can find a way out," DeRose said.
For their sweetness and good looks — athletic with beautiful blue eyes — huskies have a lot of appeal to dog owners, but they are high-maintenance with their exercise needs. DeRose said he has seen the breed adopted and then surrendered back to animal services for that reason. That is where a breed-specific rescue group can help find homes for dogs with such known characteristics.
Since its inception more than two years ago, FOCCAS has built strong relationships with many breed-specific rescue groups to place dogs where they are wanted. They have connections all over Florida and in many other states. DeRose said dogs have been taken to new homes as far north as New England.
Some breeds are more popular in other states than in Florida — the Treeing Walker coonhound, for example. Although hard to place here, Treeing Walkers are highly popular in Tennessee.
Other FOCCAS volunteers specialize in specific breeds to build a network of rescue groups to contact when a home is needed. "We let people pick whatever breeds they want to work with," DeRose said.
The breed-specific rescue groups sometimes take a dog that has no hope of going home with a family just to be sure it will get the care it needs.
Aspen is the 500th dog FOCCAS actually has taken and transported to another rescue. The group has placed untold numbers of animals within the county. In addition, FOCCAS raises funds to pay for medical treatment for animals that arrive at the shelter injured, so that the county does not have to pay. FOCCAS members constantly reach out to rescue groups to tell them about the dogs at the shelter, rather than waiting for the rescue groups to ask.
"We are proactively contacting rescues and doing evaluations," DeRose said. "It's a whole team effort."



400th Dog to Rescue for FOCCAS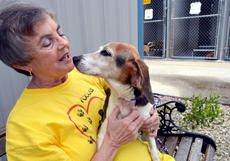 INVERNESS — If 8-year-old Ellie could talk, she probably would tell Pat Rupp thank you.
But an appreciative gaze and a bit of affectionate tail-wagging will have to do.
Ellie, a mild-mannered Beagle, was the 400th "rescue" for the Friends of Citrus County Animal Services, or FOCCAS. When Rupp says rescue, she means an animal that is removed from the county animal shelter and goes directly to a rescue group.
Surrounded by paperwork, Rupp said FOCCAS works with a number of reputable animal rescue organizations. Many come to the shelter to do direct adoptions. Other times, volunteers will travel to meet individuals from the rescue groups to drop off the precious cargo.
"We'll meet them almost anywhere," she said.
Sorting through health papers and microchip information for Ellie, Rupp emphasized the importance of being thorough when it comes to turning over papers about the animals to the rescue groups because at the end of the day, FOCCAS' main goal is to find the shelter animals loving, permanent homes.
FOCCAS began in June of 2010. By September of the same year, it had its first "rescue." But moving animals to rescue groups isn't FOCCAS' only function, and the number of animals they have "rescued" is nowhere close to the number of animals adopted as a direct result of FOCCAS' volunteer efforts.
Dressed in bright yellow T-shirts, FOCCAS members can be seen with shelter animals at several adoption events in the region in hopes of giving their four-legged friends a "second chance."
Most commonly, Rupp said FOCCAS volunteers and their animals can be found at Pet Supermarket in Inverness doing regular outreach to educate people about the shelter and to spark adoption interests.
FOCCAS also spearheads many fundraising efforts to raise dollars for items not covered by the shelter's operational budget, such extraordinary medical procedures and facility upgrades for the animals. And many of the volunteers help facilitate adoptions at the shelter and spend time socializing and caring for the animals.
Pattie Amon, animal services operations manager, called the shelter volunteers the glue that pulls everything together.
"The volunteers coming in here have changed the way the shelter operates," she said. "Without their efforts, we couldn't reach the greater needs of these animals. They are an extra set of hands."
People like Reva Rosenbach, who has volunteered at the shelter for nearly 16 years, elevate their existence, Amon said. With such a limited number of employees, the volunteers supplement their efforts. Rosenbach simply stated her work at the shelter is a labor of immense love.
"It's great. I love it," she said.
Taking a short break from tending to the animals, county veterinarian Dr. Julie Rosenberger said when she thinks of FOCCAS, she thinks about the positive changes at the shelter and all the yellow shirts.
"I like seeing all these yellow shirts around us," she said with a laugh.
Since FOCCAS formed two years ago, there has been a significant increase in the number of animals going to rescue groups. In turn, Rosenberger said, when FOCCAS or any other group commits to getting a particular animal to a rescue organization, they will work to keep the animal in the shelter until the rescue can take it.
"It's a collective effort," she said.
With the ailing economy, Rupp said many pet owners are surrendering their animals. And though the shelter employees do all they can to provide comfort, the animals are still used to being in a home.
"I just think they need help when they're turned into a shelter," Rupp said.
Rupp likens what she does to the story of the starfish thrower — a tale of a young girl who was attempting to save several starfishes that had washed up on a beach. When questioned about trying to save the starfishes, and how it would be impossible to make a difference, the girl replied while tossing a starfish into the ocean, "Well, I made a difference to that one."
"They deserve to have a better life," she said. "They really do."
For more information on Citrus County Animal Services, call 352-746-8400 or visit www.citruscritters.com.
For more information about FOCCAS, call 352-201-8664